General Features
Sales Package
1 unit of Inverter and Battery, warranty card, water level indicator and nut-bolt.
Model Name
Luminous
Model Number
Inverlast IL 1830FP 150AH + Eco Watt Neo 700VA Inverter
Capacity
150 Ah
Recommended Inverter Rating
700 VA
Electrolyte Volume
9.3 L
Electrolyte Level Indicator
Yes
Initial Charging Rate
15 A
Charging Current Boost Mode - Initial
15 A
Charging Current Boost Mode - Final
15 A
Other Details
Technology Used
Flat Plate
Dimensions & Weight
Width
50.5 cm
Height
44 cm
Depth
22 cm
Battery Weight - Dry
28.9 kg
Battery Weight - Wet
40.4 kg
Installation & Demo
Installation & Demo
This product does not require installation. The features of the product are presented in the user manual that comes with it. Hence, the manufacturer does not provide on-site installation or demo for the product. In case of any queries about the installation or the features of product, kindly call us at 8822888111 for assistance.
Warranty
Warranty Summary
30Months* (15Months Replacement Warranty + 15Months Prorata Warranty) and24 months Warranty on Inverter
Warranty Service Type
Incase of any defect in the product, the customer needs to register a service call at Luminous toll free number 18001033039. Engineer visits in 24-48Hours and gives resolution.
Covered in Warranty
Incase of any Backup issues, Product is collected from customer end and tested for Backup time. It is replaced if found faulty.
Not Covered in Warranty
Physical Damage
Technical details
Country of Origin
India
More Details
Generic Name
Inverter and Battery
Enquiry
For the product related assistance call us at 8822888111 and you can reach us via Jovideal1@gmail.com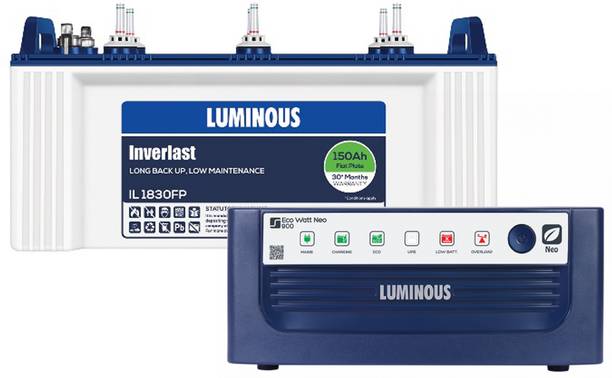 Best in class Luminous Inverlast series of flat plate batteries with robust design , excellent charging aceeptance, low water loss, enchanced life (Thick Plate construction with special paste formulation) for the areas with frequent power cuts. The battery uses more plates, means more surface area giving more power. Factory-charged and ready for commissioning. Square Wave 24 Months Warranty Supports Flat, Tubular, SMF & Local Battery ABCC Technology Overload protection with auto reset Battery charging commences even at input voltage as low as 100V AC.