General Features
In The Box
Inverter With Brand box Product & warranty card
Model Name
Luminous
Model Number
Eco Watt + 1650
Type
Square Wave Inverter
Back-up Time
Approx. 8 Hrs. on given information ( Load Options )
Load Options
Fans, Laptops, LED TV, Lights, Mixer Grinder, Personal Computers,
Recommended Battery Rating
2 Batteries (150 Ah - 180 Ah )
Battery Included
No
Solar Power Compatible
No
Switch Type
Push Button
Output Features
Efficiency
98%
Output Voltage
210-260
Output Frequency
50Hz +-2Hz
Overload
Yes
Output Power
220 W
Change Over Time
5 ms.
Overload Rating
Yes
Input Features
Input Voltage
110-290
Input Frequency
50Hz +-2Hz
Low Cut Input Voltage
110
Low Cut Recovery Input Voltage
120
High Cut Input Voltage
290
High Cut Recovery Input Voltage
300
Convenience Features
Emergency Power off
Yes
Display Indicator Functions
LED
Display Type
LED
Protection Against
Deep Discharge, MCB, Overload, Shortcircuit
Cooling system
Yes
Other Details
Technology Used
PCB programming, microprocessor
Battery & Power Features
Battery Type
Any
Recharge Time
5
No. of Batteries
2
Battery Boost Voltage
12 Volt One Battery
Battery Voltage
12
Battery Capacity
100-220
Replacement Battery Type
Any Brand
Compatible Battery Type
Any Brand
Compatible Battery Make
Any Brand
Dimensions & Weight
Width
32 cm
Height
12 cm
Depth
26 cm
Weight
16 kg
Other Features
Mode
Automatic
Warranty
Warranty Summary
2 Years Warranty
Warranty Service Type
Onsite warranty
Covered in Warranty
24 months
Not Covered in Warranty
Any damaged Only defective
Technical details
Material
Metal
Country of Origin
India
More Details
Generic Name
Inverters
Enquiry
For the product related assistance call us at 882288111 and for the product related issues call at Luminous toll free numbers.you can reach us via Jovideal1@gmail.com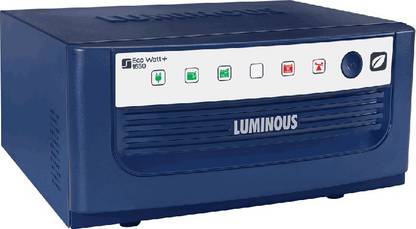 The EcoWatt series is the No. 1 selling Home UPS product of Luminous. It is built with advanced PCB programming, microprocessor and FSW transformer, making it highly efficient. It consumes less power and is capable of taking higher load. Battery charging commences even at input voltage as low as 110V AC Charging profile suitable for Flat Plate, Tubular, VRLA & Local Battery type Intelligent thermal management system keeps your system cool and shuts down the system during over temperature condition.