General Features
Sales Package
1 INVERTER, WARRANTY CARD
Model Name
Livguard
Model Number
LG700
Type
Square Wave Inverter
Load Options
3 FANS, 3 TUBE S, 1 TV, 3 LED BULB
Battery Included
No
Solar Power Compatible
No
Switch Type
Dual Inline Package (DIP) Switch
Output Features
Efficiency
75%
Output Voltage
175-235 V
Output Frequency
50+/-0.1
Overload
Above 100%
Change Over Time
10 ms
Input Features
Input Voltage
W UPS - AC 90 V to AC 290 V|UPS - AC 185 V to AC 265 V
Input Frequency
45 - 65 +/- 0.5
Low Cut Input Voltage
AC 85 +/- 10 V
Low Cut Recovery Input Voltage
AC 90 +/- 10 V
High Cut Input Voltage
AC 290 +/- 10 V
High Cut Recovery Input Voltage
AC 275 +/- 10 V
Convenience Features
Display Indicator Functions
MAIN ON, UPS ON, CHARGING ON, LOW BATTERY
Other Convenience Features
Continuos Battery Charging even when Voltage Drops as Low as 90 V
Display Type
LED
Protection Against
OVER LOAD, BATTERY LOW
Cooling system
Natural Air Cooling
Other Details
Technology Used
6 Stage Charging for Ensuring Longer Battery Life, MOSEFT
Battery & Power Features
Battery Type
Sealed Maintenance Free, Lead Acid, Tubular
No. of Batteries
1
Battery Boost Voltage
14.4 +/- 0.2 V
Battery Voltage
13.6 +/- 0.2 V
Dimensions & Weight
Width
30.5 cm
Height
17.5 cm
Depth
33.5 cm
Weight
7 kg
Other Features
Mode
UPS Mode/ Wide-UPS Mode (To Enhance Operating Input Voltage Range)
Product Details
USB Ports
No
Warranty
Warranty Summary
24 Months
Warranty Service Type
After Sales Service and Support for India - 18001025551
Covered in Warranty
Warranty Against Manufacturing Defects
Not Covered in Warranty
Manual Damage to the Product is Not Covered Under Warranty. Unauthorized Tampering of the Product would Void the Warranty Claim
Technical details
Material
Cabinet Metal, Front Fiber
Country of Origin
India
More Details
Generic Name
Inverters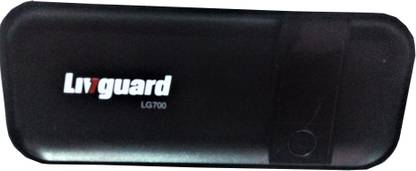 Livguard inverters are designed to suit the needs of all your appliances. Equipped with artificial intelligent charging, our range of inverters can run heavy appliances with ease and have longer back-up time. Other features include an in-built battery gravity builder and battery deep discharge protection. Livguard inverters are compatible with Flat, Tubular, SMF and other local batteries.