General Features
Model Name
Bajaj Majesty Duetto Gas Water Heater (LPG)
Model Number
Bajaj 150709
Color
White
Product Code
150709
Warranty
Warranty Summary
5 Year Warranty on Burner, 2 Year on Product
Technical details
Manufacturer
BAJAJ
Item Weight
5.14 Kilograms
Product Dimensions
116 x 300 x 448 cm
Do your prefer hot showers over cold ones even during the summer? A convenient and safe way to ensure that you have access to hot water throughout the year is with this Bajaj Majesty Duetto Gas Water Heater. Designed for Indian homes, it is suitable for installation in high-rise buildings, homes, and even hotels.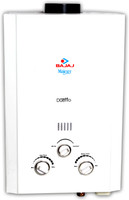 Safety Ensured
The 20-minute timer is added for your safety. This geyser also has a child lock feature, an anti-free device, and a flame-failure device which prevents dry gas leakage.
Summer and Winter Options
Adjust the temperature of this geyser according to your convenience.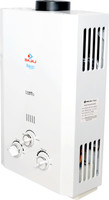 Designed to Please
Its mesh water inlet filter helps avoid water clogging, while the oxygen depletion sensor regulates the combustion in case of less oxygen levels.
Durable
The geyser's powder-coated outer body is resistant to corrosion. Its pure copper heat exchanger ensures a good heat retention.