Choose from three different wash programs to enjoy a safe and customized wash for every fabric type.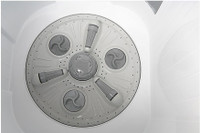 Fibres that come out of your clothes while in the wash are collected in this filter. This way, fibre residue does not clog the pipe, which results in a better washing performance for the washer.
Cleaning the collar area around shirts is tricky. Thankfully, the Collar Scrubber feature in this washing machine scrubs the cuffs and collars of your shirts so you don't have to do so manually.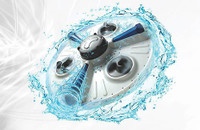 The rollers in this washer cause added friction to clothes to effectively remove dust and mites from them.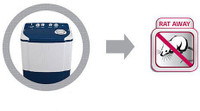 Protected with a strong plastic cover which is coated with a rat-repellent chemical, this washing machine is secure from rats nibbling their way to your washer's early demise.
This feature reduces the remaining moisture, both from the washer and your clothes. It quickly spins the tub to remove water, and circulates air through air vents to dry it after a wash cycle is completed. This feature also prevents the inner tub from getting mouldy because of its exposure to moisture.